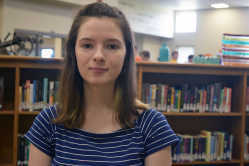 DCHS student receives over $250,000 in scholarships through Questbridge
by Rachel Townsend
Monday, May 21 2018
DCHS senior graduate Kristian Rathbun, daughter of Jerry and Teresa Rathbun, will be attending Macalester College in St. Paul, Minnesota this fall after receiving a scholarship totaling $271,600 through the Questbridge scholarship program.
The 18-year old student aspires to study fields of pre-med or biology during her time at Macalester. While in college, Rathbun says she plans to take the opportunity to study abroad, and is very excited to have been selected as a candidate for this unique opportunity.
"Knowing that I would like to spend my life helping people is different than knowing exactly what to do with my life," stated Rathbun. "Over the past five or so years, I have been exposed to a myriad of people in need, whether it was my role-model adjusting to life with a temporarily broken femur, my step-parent battling depression, or my niece struggling to walk and communicate after having a tumor removed from her brain; my experiences with these phenomenal people have guided me and my career aspirations to the medical field," added Rathbun.
"Originally, I had hoped to become a therapist so that I could assuage some of the mental burdens that more and more people face; however, when last year I went through one of the most stressful and painful times of my life and had to have an organ removed, my greatest worries and pains were eased at the hands of medical professionals. Despite the terrifying circumstances, by the time the surgery came I was able to rest with ease. This experience was the missing puzzle piece in my quest to determine my future; I knew that if I really wanted to help people like my niece and myself, I had to become a part of the medicinal dynamic.
"The first step that I will take in pursuit of my goal is to attend Macalester College in the fall of 2018. For the subsequent four years I will major in pre-med and likely intern with the American Red Cross or at the Laurie Hamre Center for Health and Wellness on-campus. Afterwards I will either begin work in a hospital or go on to attend the University of Tennessee College of Medicine to become a doctor. While for now the exact field of medicine that I will study remains a mystery to me, I know with great conviction that pursuing a medical career is perfect for someone of my passion and desire of knowledge."
Requirements for the Questbridge scholarship application included a writing supplement, common application, and list of school achievements.
Rathbun expressed her appreciation to DCHS instructor Susan Campbell and TN Advise Counselor Angel Cotton for their support and guidance in pursuing the scholarship opportunity.
Rathbun joins fellow senior students Jaren Loveless and Dannie Watson in her accomplishment.
Rathbun's student achievements include:
• 2018 Arts Departmental Award Winner
• 2018 Mathematics Departmental Award Winner
• 2018 Tennessee Scholar
• 2018 Choctaw Scholar
• 2017 1st Place Winner of Annual TMTA Math Competition: Statistics
• 2016 1st Place Winner of Annual TMTA Math Competition: Algebra II
• 2014 Top Ten Percent of Class
Community involvement:
• After-school Tutoring (2015-present)
• Dyer County High School Recycle Club (2016- 2017)
• Northview Middle School Library (2014)
Rathbun holds a 4.0 GPA, and is on the DCHS Act Wall of Honor with a composite score of 32. She is also a Choctaw Scholar and TN Scholar. Rathbun served as FTA Secretary during her freshman, sophomore and junior years.